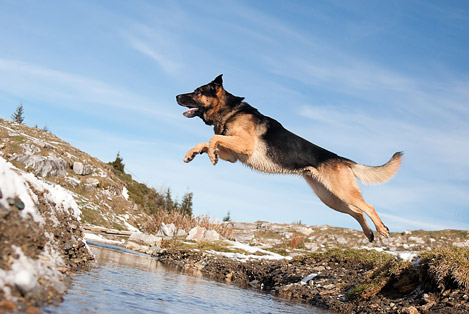 Joint Guard Vet® is formulated with several ingredients, such as Glucosamine and Chondroitin sulfate, which promote the longevity of healthy joints by enhancing joint fluid and supporting joint strength, flexibility, and comfort through all life stages.
Special Note: When using this or any supplement with a lactating animal, please closely monitor nursing offspring for normal suckling behavior. If you have any questions, please do not hesitate to consult a veterinarian or the Animal Necessity veterinary support team.
Joint Guard Vet™ is formulated with several ingredients that promote joint health, flexibility, strength, and comfort through all life stages. These active ingredients include:
Glucosamine
Glucosamine is a naturally occurring amino monosaccharide. It can be made by the body and provided as a dietary supplement, and is a necessary precursor for the formation of hyaluronan and keratin sulfate, both of which promote the health of joint fluid. This Animal Necessity supplement incorporates two out of three possible forms of Glucosamine – Glucosamine sulfate and hydrochloride (HCl). These Glucosamine formulations are water-soluble and more readily absorbed by the intestine and rapidly distributed to the body's tissues and joints than the third type of Glucosamine available, N-acetylglucosamine.1
Chondroitin (bovine)
Chondroitin is a natural glycosaminoglycan produced by the body as a normal constituent of cartilage. Supplemented Chondroitin sulfate has been proven to help support normal joint function, mobility and comfort.1
Methylsulfonylmethane (MSM)
MSM occurs naturally in plants like horsetail, algae, fruits and vegetables, and is a sulfur-based, odorless organic metabolite of dimethylsulfoxide (DMSO). The sulfur provided by MSM plays an important role in maintaining the health and mobility of joints, tendons, and ligaments through all life stages.2 Sulfur is also necessary for the production of glutathione, the body's most important universal antioxidant, which helps to promote a healthy immune system. OptiMSM®, the form used in this supplement, is an ultra-pure, high quality source of MSM with effects that have been well-supported by scientific research.3
Turmeric root extract
Turmeric is a perennial herb and member of the ginger plant family. The active ingredient in turmeric root extract is curcumin. Curcumin supports a healthy inflammatory response in joints and promotes healthy lipid metabolism. Please consult the Animal Necessity veterinary support team if use is desired in diabetic patients or those patients with gallbladder disease.
Boswellia serrata gum extract
Boswellia serrata is a branching tree native to India, Africa, and Arabia, in which the gum (or resin extract) is most commonly used for its ability to promote a healthy immune response which helps to keep joints comfortable.4
Bromelain
Bromelain is a proteolytic digestive enzyme obtained from the fruit and stem of a pineapple. This natural enzyme promotes a normal immune response by modulating fibrin production and prostaglandin release, which help to optimize joint health.5
Hydrolyzed collagen (chicken)
Collagen is the most abundant protein in different types of animal tissue, including cartilage, skin, ligaments, tendons, and bones. When combined with the other ingredients in Joint Guard Vet™, it supports the comfort of joints throughout all life stages.
White Willow bark powder
Bark from the White Willow tree (Salix alba) contains the active ingredient salicin, which is the natural plant-based precursor needed to produce Aspirin, or acetylsalicylic acid. Salicin supports a healthy immune response by modulating the action of prostaglandins COX-1 and COX-2 in order to promote joint comfort throughout all life stages. Please consult the Animal Necessity veterinary support team if use is desired in lactating patients.6
PureWay-C® (Vitamin C)
Pure-Way-C® is a vitamin C supplement that is more rapidly absorbed, leading to greater plasma and cellular levels, and allowing for more rapid action and more beneficial effects than other forms of vitamin C.7 Vitamin C has antioxidant properties that support a healthy immune response which, particularly when combined with the other ingredients in Joint Guard Vet™, promotes normal joint health.
Manganese gluconate
Manganese is a trace nutrient that is stored in the liver, kidneys, pancreas, and bones. When used with Glucosamine and Chondroitin sulfates, manganese can promote the health of joints for all life stages.
---
References:
1 Neil KM, Caron JP, and Orth MW. The role of glucosamine and chondroitin sulfate in the treatment for and prevention of osteoarthritis in animals. J Amer Vet Med Assoc. 2005; 8(1): 1079-88.
2 Amiel D, Healey R, and Oshima Y. Assessment of methylsulfonylmethane (MSM) on the development of osteoarthritis (OA): An animal study. FASEB J. 2008; 22: 1094.
3 Hasegawa T, Ueno S, Kumamoto S, et al. Suppressive effect of methylsulfonylmethane (MSM) on type II collagen-induced arthritis in DBA/1J mice. Jpn Pharmacol Ther. 2004; 32(7): 421-7.
4 Krieglstein CF, Anthoni C, Rijcken EJ, et al. Acetyl-11-keto-beta-boswellic acid, a constituent of an herbal medicine from Boswellia serrata resin, attenuates experimental ileitis. Int J Colorectal Dis. 2001; 16(2): 88-95.
5 Walker AF, Bundy R, Hicks SM, et al. Bromelain reduces mild acute knee pain and improves well-being in a dose-dependent fashion in an open study of otherwise healthy adults. Phytomedicine. 2002; 9(8): 681-6.
6 Chrubasik S, Eisenberg E, Balan E, et al. Treatment of low back pain exacerbations with willow bark extract: A randomized double-blind study. Am J Med. 2000; 109(1): 9-14.
7 Weeks BS and Perez PP. A novel vitamin C preparation enhances neurite formation and fibroblast adhesion and reduces xenobiotic-induced T-cell hyperactivation. Med Sci Monit. 2007; 13(3): BR51-58.