The Ocu-GLO® Human Vision Formula was designed based on research data from the Age-Related Eye Disease Studies (i.e. ARED studies I and II). The ARED studies are a major clinical trial sponsored by the National Eye Institute to identify the leading causes of vision loss in older humans. Based on the published results of the ARED's studies, as well as a plethora of clinical and basic ophthalmic research, the Board Certified Ophthalmologists behind the worldwide best selling vision supplement Ocu-GLO®, developed Ocu-GLO® Human Vision Formula. This unique combination of ingredients may benefit your ocular health in these important ways:
Includes GLO® for optimal vision health: Grape Seed Extract, Lutein and Omega-3 Fatty Acids
Helps maintain normal eye function and health
Helps maintain ocular integrity and structure
Helps support capillary health in the eye
Promotes long-term ocular health
This is based on both clinical experience and research findings over the past 8 years.
Purest Ingredients
Ocu-GLO® Human Vision Formula includes only the purest ingredients including FloraGLO® lutein, which is the world's leading lutein sourced from marigold flowers. Ocu-GLO® Human Vision Formula is GMP-certified, meaning that it is manufactured in a GMP-certified U.S. facility and contains only pharmaceutical-grade natural ingredients.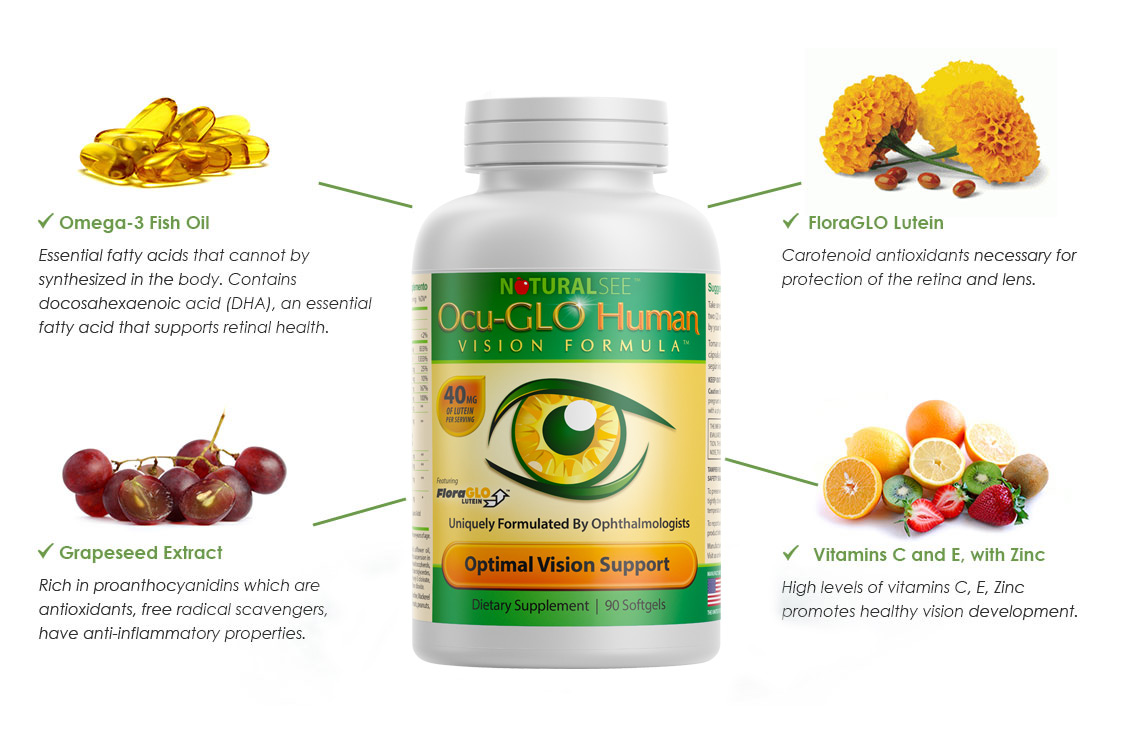 ---
Ocu-GLO® Human Vision Formula contains astaxanthin instead of lycopene (derived from tomato) because humans are often reactive or allergic to tomatoes. Lycopene is a great antioxidant that quenches free radicals that damage cells, and can help reduce age-related eye disorders and support lens health.
Lycopene is 100x stronger than vitamin E at quenching free radicals.
Canine Ocu-GLO® does have some vitamins that the human version does not, and more lutein too. In fact, the co-inventors of canine Ocu-GLO® took the supplement themselves for six years, and then when the human version came out last year, one of us switched to the human version and one of us stayed on the canine version! We like them both.
Both versions of Ocu-GLO® are good for different kinds of eye support, but the GLO® (Grape Seed Extract, Lutein, and Omega-3-fatty acids) and alpha lipoic acid are the key ingredients for retinal health.
Astaxanthin is a wonderful antioxidant, and your pet owner can always add it into her dog's diet with canine Ocu-GLO® to receive optimal ocular health benefits.
Why This Product Is Different
Ocu-GLO® Human Vision Formula is different from the popular vision supplements commonly found on drugstore shelves. Humans need much more lutein than what is contained in these supplements. Aging decreases absorption of nutrients, and therefore humans need higher doses of a variety of antioxidants over time. In fact, humans need higher amounts of all nutrients and antioxidants than what is contained in most human vision supplements not just lutein. Natural Necessity has created Ocu-GLO® Human Vision Formula with this in mind to help everyone receive the best blend and dosages of the highest quality natural ingredients to help support their eye health.
| | |
| --- | --- |
| Weight (lbs.) | Daily Use |
| - | Take 3 softgels daily or as directed by a healthcare professional. |
Keep out of reach of children.
Caution: Before using any dietary supplement, pregnant or lactating women should consult with a physician or healthcare professional.