Roberto Clemente Jr. announces the 2022 Roberto Clemente Award Winner
Roberto Clemente Jr. announces the 2022 Roberto Clemente Award Winner, Justin Turner, while supporting a great marine cause. Roberto Clemente brings awareness to Dolphins Plus Marine Mammal Responder and Animal Necessity, helping fundraise to build a marine teaching and rehabilitation hospital in the Florida Keys.
Please check out the link below to learn more and contribute today. Any amount will help, and we sincerely thank you for your donation.
---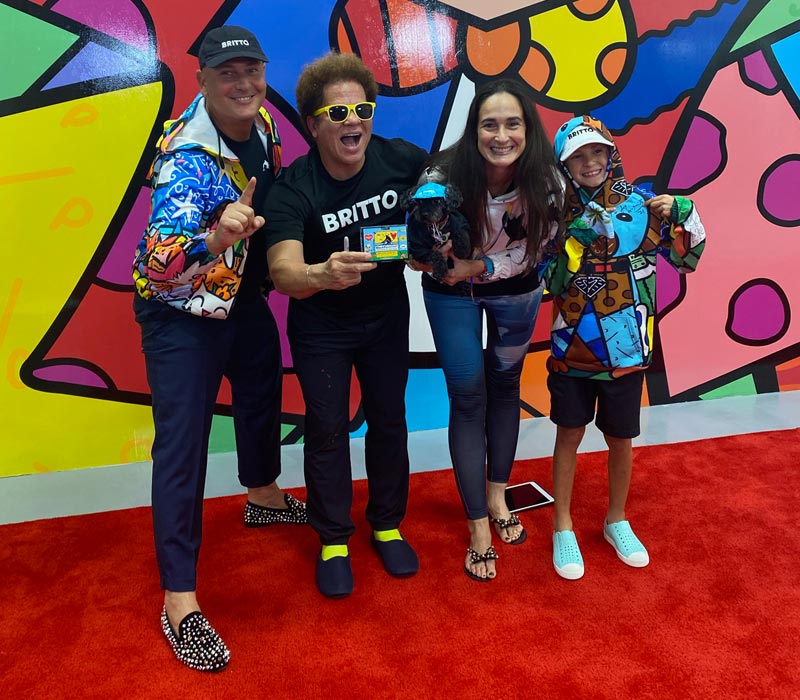 Animal Necessity® and ROMERO BRITTO Give Back to Support Zoo and Aquariums

In an exclusive collaboration with world renowned artist ROMERO BRITTO, 1:20 Vet™ provides this high-quality HEMP supplement while educating on zoo and wildlife health care conservation.
BlackFin HEMP™ for Companion Animals is the first to be administered and studied in marine animals to help improve discomfort and, for the first time, this formula is available for your dog. With every unit purchased, 1:20 Vet™ will donate the same unit amount to a zoo or aquarium.
---
A Special Message from Johanna Mejia-Fava, DVM, PhD
Whales & Dolphins need our help... and we need yours.
Animal Necessity is helping to raise money for Dolphins Plus Marine Mammal Responder (DPMMR). Our goal is to spread the word of this amazing fundraiser and help marine mammals in South Florida. Make a positive change in the year 2022 by helping this worthy charitable cause!
DPMMR is located in Key Largo, FL, and is a not-for-profit organization 501(c)3 that leads and operates the ONLY whale and dolphin stranding organization covering 10,000 square miles of marine habitat in the Florida Keys.
DPMMR is also the home of seven Atlantic bottlenose dolphins, and their mission is to connect thousands of environmental stewards to our ambassador dolphins, through educational programs, promoting understanding of marine mammals through scientific investigation, and to provide excellent animal husbandry and preventive medical care. Animal Necessity and DPMMR's longitudinal nutritional and supplement research provides leading edge information, allowing for better care for their con-specifics that strand from the wild.
DPMMR is the only rescue organization for whales and dolphins in the Florida keys. DPMMR is seeking to purchase a waterfront property in Key Largo that will be transformed into a long term rehabilitation center. Currently, the Florida Keys lacks this vital long term rehabilitation facility, and animals are dying as a result.
We're looking to raise one million dollars AS SOON AS POSSIBLE to acquire this unique property. DPMMR has researched and identified a waterfront parcel that meets all of our criteria for long term rehabilitation. It also will serve as a permanent home for non-releasable marine mammals that need permanent managed care. Once the property is secured, DPMMR will initiate a capital campaign to build a teaching hospital. Researchers, veterinarians, and students from all over the world the will have an opportunity learn, engage, and become the next generation to protect our endangered marine environment. Connecting more people means protecting more marine mammals, and with you on board we will do just that! We will "Connect to Protect".
This time is now, let's accomplish this positive goal! Please donate today! Any amount will help, and we sincerely thank you for your donation.
Yes! I'm ready to safeguard the future of marine mammals with my gift to DPMMR to acquire the grounds in Key Largo with this donation in order to build a marine mammal rehabilitation facility in the future.
If this property is not purchased in the next 2 years, this money will be donated to purchase a veterinary instrument. Animal Necessity will match these funds to purchase this instrument and allow 'at no cost' to be used to help dolphins in the keys. We will update with footage and information of the instrument purchased and how it is helping with dolphin medical care. Thank you so much for any donation you can offer!
Please Donate Today »
---
Animal Necessity Zoo and Aquarium Fundraiser
Help Us Save These Institutions!
From dolphins to jaguars, to sea turtles to parrots - we aren't the only ones who have to deal with the COVID-19 crisis. The number of affected zoos and aquariums around the world is unprecedented. They are no longer receiving the important funds for which they rely on to care for these animals. In support of the industry's move to online and virtual stewardship, Animal Necessity® extends an invitation for you to join us in a campaign to help save them!
Our Immediate Goals
To help institutions maintain their animal supplement regime and generate funds to assist with other animal healthcare costs.
To support animal health.
To demonstrate institutions' exemplary animal stewardship, particularly in a crisis.
To achieve the goals above, Animal Necessity® is sponsoring online facility programming, including live look-ins, digital classrooms, Facebook Live, virtual training, and more. We also have launched a commitment to donate 100% of profits from our sales using the institution's custom code in our checkout.
How Can You Help?
It's easy! We've partnered with facilities to help fund the sustainability of their animals. All you have to do is:
Look in the chart below for a facility you'd like to help.
Use their code during your checkout on this website with any Animal Necessity Supplement. This code will help us track the donations.
We will donate 100% of the profits to that facility each month!
Please contact us with any questions you have. Thanks for helping us donate to keeping these animals healthy!
Partner Institutions
---
Dolphins Plus Marine Mammal Responder is now open to the public! Please come visit and learn more about our dolphins.