Why prescribe Animal Necessity's
Weight Guard Vet™
for your overweight animal?
A reduced caloric diet, regular exercise patterns, and dietary supplementation can contribute to:
Boosting metabolism which increases caloric burn
Regulating blood sugar to reduce the urge to over eat
Reducing strain on important organs such as heart, kidneys, lungs, and G.I. tract
Reducing weight load, allowing a more active, healthier, and longer life
Everyone wants to ensure their pet stays as healthy and active as possible. Proper weight management is essential to optimize both quality and duration of life.
Weight Guard Vet™ uses key
Natural Ingredients
Green Tea Extract
This antioxidant helps increase metabolic rate and energy expenditure, as well as increasing the rate of fat oxidation. Also possesses anti-inflammatory effects.
White Kidney Bean Extract
Amylase inhibitor which prevents the digestion of dietary carbohydrates and their conversion to glucose.
Cinnamon Extract
Helps regulate blood sugar and reduce sugar cravings. May also help reduce high blood pressure.
If your pet needs to lose weight, gradual weight loss is very important and should be monitored with the help of your veterinarian. As a general rule, overweight pets should not lose more than 2% of their body weight per week. For example, a 15 lb cat should not lose more than 5 ounces/week (15 lbs x 16 oz/lb = 240 oz. 240 x 0.02 = 4.8 oz, rounded up to 5 ounces). Keep in mind that as time passes, the weight goal changes as the weight is lost. For example, at the beginning of the second week our cat now weighs 15 lbs - 5 oz = 235 oz, so our weight goal this week is losing 2% of 235 oz. Rapid weight loss is associated with increased hunger, reduced metabolism (thereby making weight loss more difficult), and unhealthy loss of muscle tissue when broken down to provide glucose, instead of the preferred(or desired) breakdown of body fat. For guidelines on safe weight loss for dogs and cats, see the weight loss tools at www.petobesityprevention.org.
Baseline Dosages:
| | |
| --- | --- |
| WEIGHT (LBS) | DAILY USE |
| 20 or less | 1/2 Capsule A.M. and 1/2 Capsule P.M. |
| 21-80 | 1 Capsule A.M. and 1 Capsule P.M. |
| 81-200 | 2 Capsules A.M. and 1 Capsule P.M. |
| 201-300 | 2 Capsules A.M. and 2 Capsules P.M. |
| 301-500 | 3 Capsules A.M. and 2 Capsules P.M |
| 501+ | Contact Us for Dosage Guidelines |
Store tightly sealed in a cool dry place.
Warning: Keep out of the reach of children. Use caution in animals with seafood allergies. This supplement may cause possible excess bleeding, so discontinue 2 weeks prior to surgery.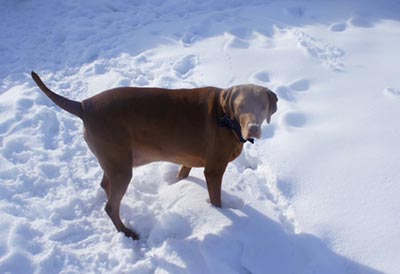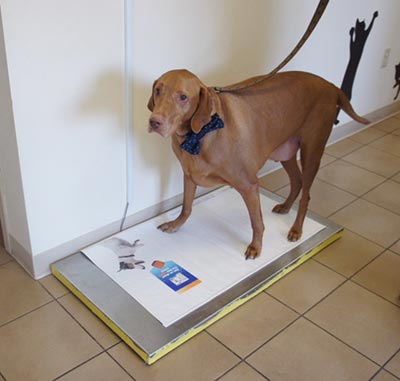 The first 2 weeks of Schooner being on Weight Guard he lost 2 lbs. Schooner went to the vet today after being on for 4 weeks. He lost another 4oz. It is working. Schooner has cut down on being a counter surfer and getting into the trash. We ordered our 2nd bottle of Weight Guard to help Schooner lose weight. I will be giving up to date weight lost on Schooner so you can see how Weight Guard is working for Schooner. If your dog is over weight try Weight Guard. You also need to exercise your dog and keep them active. We are hoping for spring to come soon. Our weather has been very cold and outside, and playing was not an option, so we been running up and down the steps.
- Sharon & Schooner
Administration Unit: 1 Capsules
//
Capsules Per Bottle: 90
Active Ingredients
Amount Per Administration Unit
Chromium (as chromium picolinate)
33.33 mcg
Acetyl L-Carnitine L-Tartrate
50 mg
Grapeseed Extract (GSE)
26 mg
Cinnamon Extract
(Cinnamonum cassia)(bark) standardized for 1.5 % methychalcone polymer (MHCP)
33.33 mg
Chitosan (90% deacetylated chitin from shellfish)
50 mg
Citrus aurantium Fruit Extract
standardized for 6% synephrine 3mg
50 mg
Garcinia cambogia Extract (fruit rind)
standardized for 50% (-) hyrdoxycitric acid 128.33mg
256.66 mg
Green Tea Extract
Camellia var. sinensis (leaf) 50 mg
standardized for 50% polyphenols 5mg
10 mg
Proprietary Blend
*Phaseolamin 2250â"¢ White Kidney Bean Extract
Phaseolus vulgaris L. (dried bean)
Bromelain
49.32 mg
Inactive Ingredients: Microcrystalline cellulose, Rice Flour, Gelatin, Magnesium Stearate